Practical Environmental Solutions, LLC
New Jersey Licensed Site Remediation Professionals (LSRPs)
A NJ Department of Environmental Protection Certified Company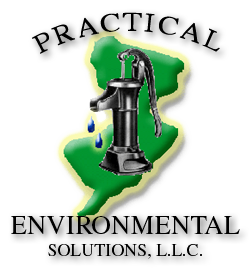 Practical Environmental Solutions, L.L.C. is a turnkey New Jersey based environmental consultant that has successfully served over 3,000 residential, commercial, and industrial clients throughout the state. Practical's personnel include scientists, geologists, engineers and Licensed Site Remediation Professionals (LSRPs). We have over 20-years of experience providing environmental investigation and remediation services and are one of the few environmental engineering firms with LSRPs on staff. We are also one of the few environmental consultants whose clients deal exclusively with an owner of the company (also an LSRP). This relationship ensures that you are working with a licensed professional that has a vested interest in the successful completion of your project.
We constantly strive to live up to our name by providing practical solutions to your environmental problems. Practical's LSRPs combine experience with superior service and efficiency to provide value to our clients resulting in the completion of projects on time and within budget. Our LSRPs always take the time to meet with you, explain complex regulations, and assist you with achieving compliance.
Practical's LSRPs also provide expertise in cost recovery through the use of forensics and modeling. We have assisted our clients in recovering millions of dollars from insurance companies and N.J./Federal grant programs to comply with New Jersey's environmental regulations.
In addition to those licensed within the LSRP program Practical employs personnel that are licensed for Underground Storage Tank Closure and Subsurface Evaluation and certified within New Jersey's Underground Heating Oil Tank (UHOT) program. We maintain all licenses and certifications required by NJDEP to complete your project.
Practical Environmental provides its services throughout the entire state of New Jersey.